Get to know us!
Hi there! Welcome to the Volcano Hopper Base Camp! We are so happy you stopped by!
Our story started in 2017 on a hike to Kilauea's 61G lava flow. On the 6 mile trek over the ropy, black pahoehoe, my husband and I started talking about all the volcanoes we had visited over the years, and all the volcanoes we had yet to explore.
I started to think about all of the amazing people in the world who were fascinated with volcanoes and wanted to learn more about them; people who might not have the opportunity to get their own boots on the ground for one reason or another. I realized I not only wanted to visit volcanoes around the world, but I wanted to share my adventures with others who shared the same curiosity.
The Volcano Hopper blog had been born! Since then, I have been chronicling my adventures here, teaching readers about the volcanoes I visit and bringing them along with me. I am so glad you have an adventurous spirit and are along for the journey!
Meet Carol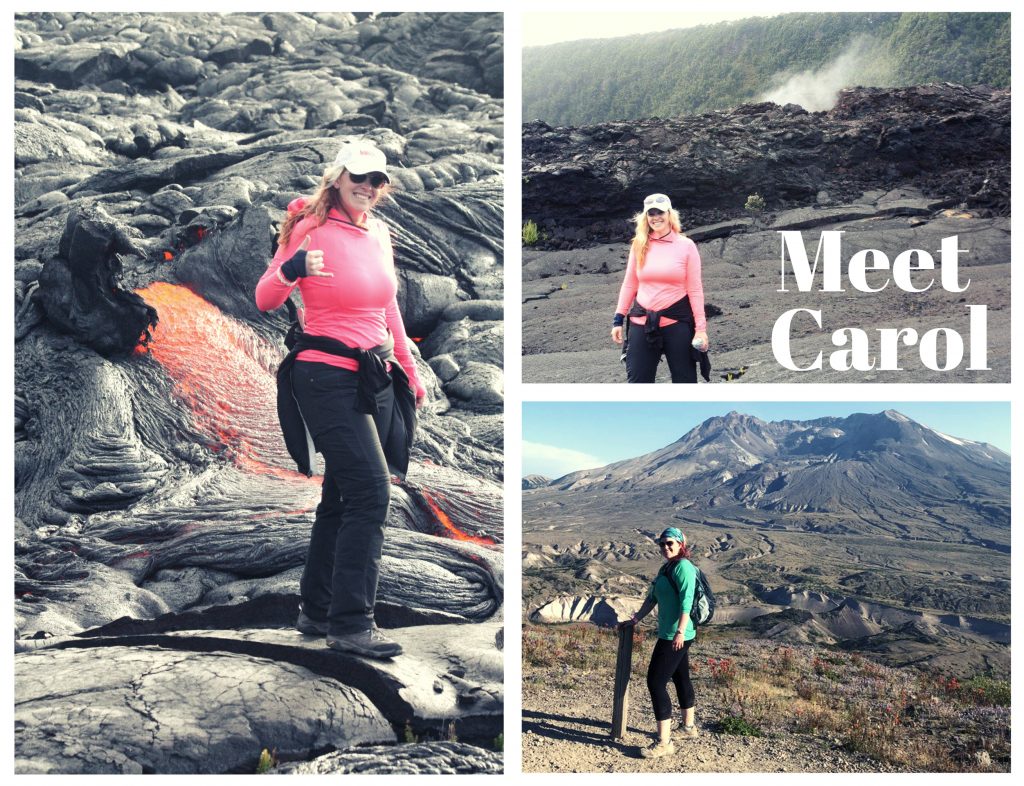 As you're reading this, I'm probably curled up with a hot cup of Irish Breakfast Tea and a cat (or two) as I plot our next adventure. I live at the base of the Colorado Rockies with Jason – my partner in crime and love of my life – and our two cats, Gypsy and Niala.
I've known writing was my life's calling since I was five. Volcanoes became my passion at age eight when I discovered them in a science textbook. Blogging has made it possible to fuse those two passions together into one amazing endeavor! When I'm not blogging, I love crafting fictional stories, usually of the novel variety. And when writers block hits? I go for a long trail run.
I hold a Bachelor of Science in Visual Communications, and love to put my graphic design and photography skills to good use by photo-journaling our adventures. I'm also a voracious reader. Jason once told me I couldn't own more books than my three bookshelves could hold, so I bought a Kindle… and installed floor-to-ceiling bookshelves in our Base Camp's library. I still have a few empty spaces to fill with the latest sci-fi/fantasy or volcanology textbook.
Meet Jason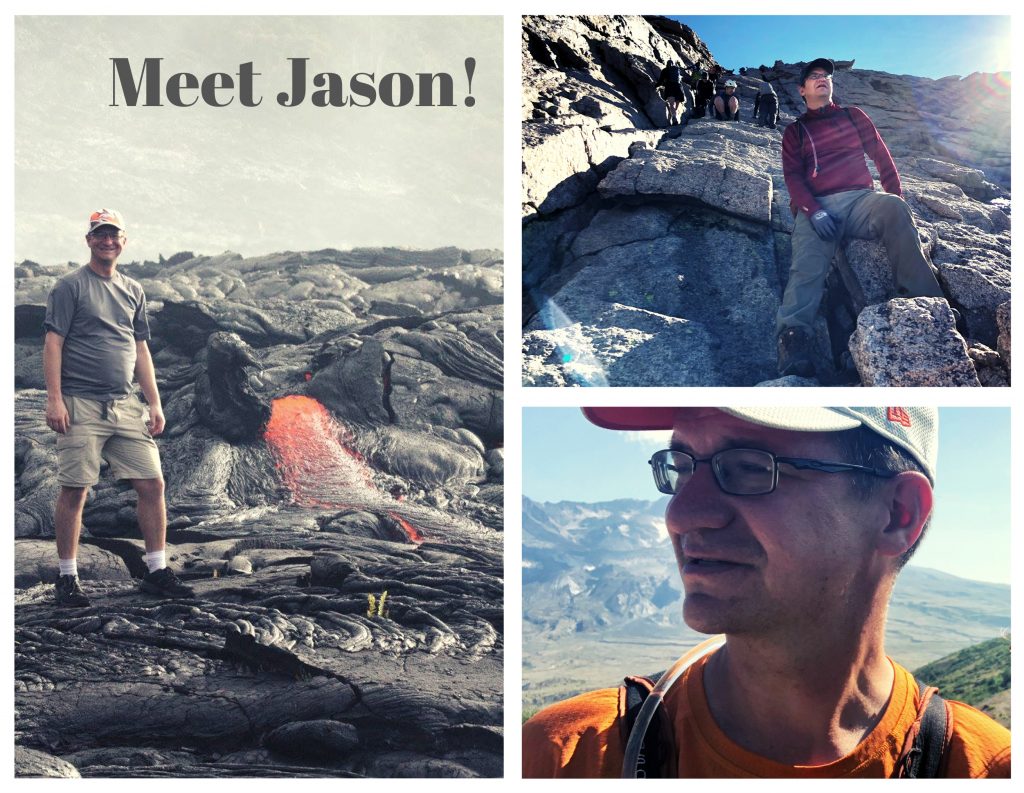 You'll see this handsome guy pop up in all of my adventures! Jason and I met in 2003, were married in 2006, and have braved all of the adventures (good and bad) that life has thrown at us so far. He is my best friend and an amazing partner in crime.
Jason is an avid hiker and loves the outdoors. He has climbed several 14ers, his favorite of which is Longs Peak in Colorado. Recently, he has discovered that he really enjoys the tougher volcano climbs too! When he's not hiking, he can usually be found on a golf course. He loves to travel, just like I do, and so we love to plan our next great adventure together.
Meet Gypsy & Niala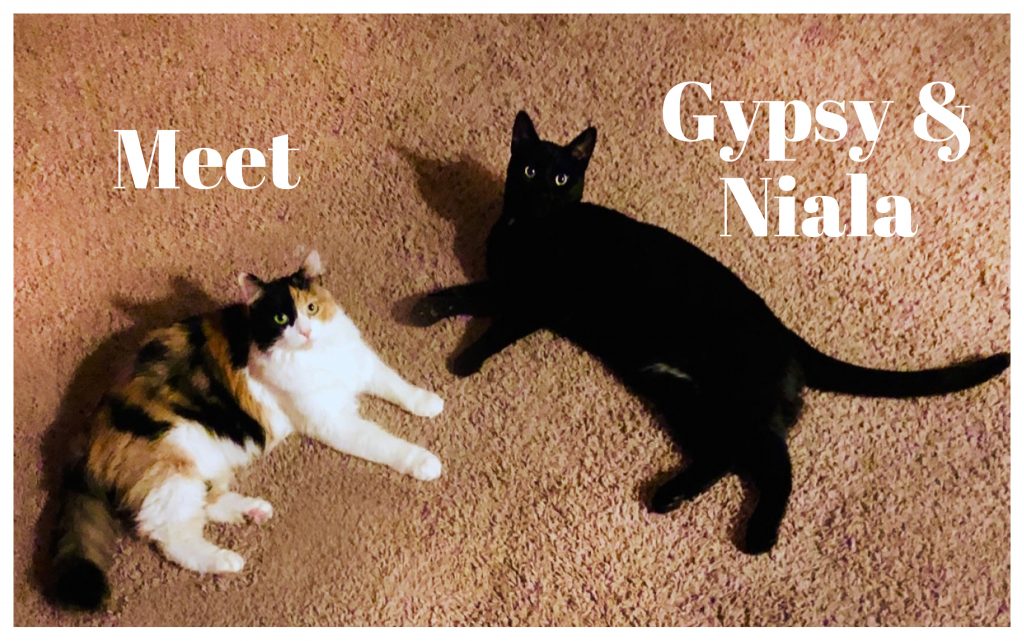 Gypsy is our resident panther. She is 14 pounds of solid, rippling muscle and loves to find the highest perch to stalk her prey… and then tackle them with kisses and snuggles! She may look rough and tumble, but she has the most gentle heart. We rescued Gypsy from the shelter in 2016 when she adopted me! She sat down on my lap, started purring like a Harley, and wouldn't budge until I said I'd take her home. Gypsy loves snuggle time and is great moral support when I am writing the latest blog post.
Niala is also a rescue who we brought home in 2018. A young calico kitten whose owner had passed away, she was in desperate need of a forever home. She immediately claimed Jason as her human and has learned to tolerate me. Niala loves playtime and never forgets to remind me when it's time to get up, stretch, and throw a foil ball around. She also loves editing my typing when I'm not looking and adding her own spin to things…

adfsr7tivsjn;gfh0-=k/hjafsd (That's 'cat' for Niala was here.)
Let's Get Hopping!
Want to know more about how I fell in love with volcanoes? Check out the full scoop here.
Ready to dive into an adventure and explore some incredible volcanoes? Check out our adventure blog! If you're looking for a specific volcano, check out the menu on the right side of the page.