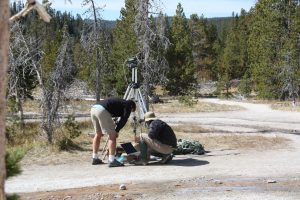 Monitoring of volcanoes has certainly come a long way, especially in recent years. Not so long ago, volcanic eruptions were thought to be signs from angry gods and many times resulted in the deaths of anyone living near their slopes.
Today, while these spectacular volcanoes are still wild and unpredictable, and can certainly cause casualties, they are much better understood and are under constant observation. Scientists continue to strive to learn all that is possible, and to be able to accurately predict eruptions before they happen.
If you are like me and can't get enough, here are some valuable resources for you:
A Little Light Reading
Okay, confession: I read volcanology books in my spare time. For fun. You may be giving me a funny look right now, or you may be scrambling into the Base Camp's library to rummage through what I have on hand. There are so many amazing resources out there, and I'm not claiming that one book is better than another, but I have a couple personal favorites that might get you started:
Fundamentals of Physical Volcanology by Elisabeth A. Parfitt & Lionel Wilson. A great overview of all things volcanic. These two really know their stuff.
Volcanoes by Peter Francis and Clive Oppenheimer. You know it's going to be entertaining when the opening chapter is "Isotopes and Green Cheese" and the first line describes volcanoes as having a Jekyll and Hyde personality.
Supervolcano: the Ticking Timebomb Beneath Yellowstone National Park by Greg Breining. This is a lovely little paperback I found tucked in the back corner of a gift shop in Yellowstone National Park, but it's not a lightweight on the science part of it. If you can read this before you take wander through the place, you'll see things that most tourists don't.
Island on Fire by Alexandra Witze & Jeff Kanipe. An intriguing story of the Laki eruption in Iceland and how it changed the world. A compelling fusion of history and science.
Characteristics of Hawaiian Volcanoes; Professional Paper 1801 by the United States Department of the Interior and United States Geological Survey. For those of you who just can't get enough of the activity in Hawaii.
Have a favorite book or article? Tell me about it!
Current Monitoring
Show me the action!  There are a few ways that you can keep tabs on all the volcanic happenings from the comfort of your own home.  Here are some of the best volcano monitoring sites from all over the world.
United States Geological Survey Volcano Hazards Program
Fantastic information and some incredible field guides for your own self-guided adventures. You can also tap into all the United States observatories from here.
Smithsonian Institution Global Volcanism Program
World Organization of Volcano Observatories
Have a favorite monitoring site that you use? Tell us about it!
Take me back to back to Volcanoes 101!