Last week, I couldn't help but notice the flurry of articles that kept popping up about Yellowstone volcano. They were absolutely everywhere! Seriously. I almost stepped on one of the critters. A number of frantic stories were trending on social media and on popular news sites. I even saw one circulating again today. The gist? An impending eruption is just around the corner. Seriously, go to the grocery store this weekend.
Such stories tend to crop up once or twice a year and get everyone worked into a tizzy. On the one hand, yes, it is intriguing to ponder a future shaped by a megacolossal eruption. I'm sure it's been fodder for some interesting sci-fi stories. But for reputable news organizations to paint a picture of imminent disaster without citing a single viable source is rather comical. What's a little sad, however, is that so many people willingly dive onto the panic wagon without checking any facts or sources. And, with as easy as this trickery seems to have become, the media has once again succeeded in getting everyone stirred up that we're going to be annihilated tomorrow. Simmer down. Yellowstone's not going to go postal.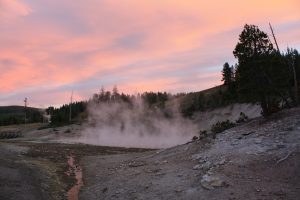 I took some time to browse a few of these articles. I had to stop after snorting soda out my nose from laughing so hard. They were amusing. But what I was really looking for was one quote – just one – from a scientist who was even halfway acquainted with the Yellowstone volcano. Crickets. What I did find was a quote from a researcher that had been chopped up and Frankensteined back together to make it sound very different than was originally intended.
Finally, after several days of trudging through these stories, I came across one written by Time. It was an interview with Yellowstone Volcano Observatory (YVO)'s former scientist in charge – Jake Lowenstern. His take on the whole ordeal? It's business as usual at North America's favorite supervolcano.
So what on earth stirred up such a hubbub this time around?
1) Earthquakes.
It's no secret there have been earthquake swarms in and around Yellowstone National Park form several months now. An increase in earthquake activity does not, by itself, mean that an eruption is coming down the pipes, but it sure will catch some attention.
Volcanoes are not exactly sound sleepers. They do a lot of tossing and turning, even if they're not considered active. Yellowstone is no exception. Magma and gas are constantly moving below the surface, shifting the rock around. Water seeps down into cracks in the earth and changing temperatures cause the ground to expand and contract. There are many dynamics that can make a volcano snore. But many times, it just rolls over and goes back to sleep.
2) Research Studies.
Jake Lowenstern stated in his interview with Time that there's usually an uptick in news stories such as these, and renewed interest in Yellowstone volcano (and the doom and gloom it could cause) whenever research teams release new studies. So it's no coincidence that a new study has just been published by a research team from Arizona State University.
This new study by the research team at ASU has examined the plumbing system at Yellowstone and how its structure may have contributed to the volcano's last few mega-colossal eruptions. One of the conclusions of the study was that changes to a volcano's system can happen much quicker than scientists thought. Previously, it was believed that volcanic processes in supervolcanoes took thousands of years to occur before an eruption. Their findings now suggest that those changes could happen much more quickly – in as short a time span as decades in some cases.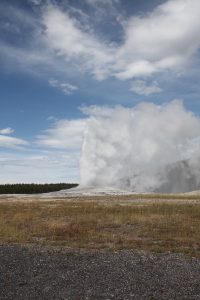 Once the New York Times broke the story about their research, many sources took it and ran, interpreting the findings to mean that Yellowstone was kicking, and we're all doomed in the next few years.
Christy Till, one of the researchers on the team quickly tweeted, "All signs of activity at Yellowstone are normal. There are NO signs of eruption as some media outlets are reporting." Jake Lowenstern concurred with this observation in his interview with Time. One good look through Yellowstone Volcano Observatory's page will also show that all everything is sitting within normal parameters, even if normal does equal interesting and unexpected.
Personally, I look forward to finding out what will trigger the next landslide of media suppositions six months from now. In the meantime, I implore you, before you get swept away with any of these or other "news" stories, take the time to check your facts. Look to see if the reporter cites any viable sources and, if not, try to find an interview with one of those viable sources on the topic. Heck, reach out and ask them yourself. But don't jump on the panic wagon without knowing why you're out taking a ride.
Next up: So, when interesting topics like this surface, I'm prone to daydreaming: what would the world be like if Yellowstone did blow itself to smithereens? Stay tuned!
Sources:
[1] Chan, Melissa. (2017, October 13). No, Yellowstone's Supervolcano Isn't Going to Wipe Out Life on Earth Anytime Soon. Time. Retrieved from http://time.com/4982184/supervolcano-yellowstone-erupt/?xid=homepage
2 Hall, Shannon. (2017, October 10). A Surprise from the Supervolcano Under Yellowstone. New York Times. Retrieved from https://www.nytimes.com/2017/10/10/science/yellowstone-volcano-eruption.html
3 Christy Till (christy till), "All signs of activity at Yellowstone are normal-there are NO signs of eruption as some media outlets reporting."
Copyright © 2017 Volcano Hopper. All rights reserved.