This post is sponsored by Amazon, but all opinions are my own.
So you're ready to take the leap and are ready to go explore a volcano. But what to bring? Below are 7 must-haves for your volcanic adventure.
If you've followed my 5 steps to prepare for a volcano hike (click here if you need a refresher), you should know the volcano you are planning to meet verywell. Knowing the volcano will give you a solid idea of what to bring with you. It is critical to have good gear. I love to find stuff on the bargain rack. I really do! But you have to make sure that the gear you are buying is the right gear for you. It's no good shelling out the cash for a pack that doesn't sit right or shoes that pinch your toes. (Trust me – you'll want to cut your feet off before that hike is over.) Buy the right stuff for YOU the first time around.
One of my marathon coaches once told me, "Nothing new on race day." Break your gear in early! New clothes/shoes/packs will cause blisters, rashes, and problems out the whazoo. Don't wait until you're on the trail to give the gear a trial run.
So, what do you need to bring?
1) Good Hiking Shoes
Do not – I repeat – do NOT go hiking on a volacno with sandals. Even hiking sandals. Lava is as sharp as glass and will shred your feet to ribbons. Get some sturdy hiking boots instead. Boots with high ankles are fantastic. Lava is very uneven and volcanic terrain can be steep. It's easy to roll your ankle, so these help prevent a sprain or break. Make sure your boots have thick soles and excellent tread on the bottom. Planning on snow or ice? Get the right crampons and learn how they work.
Volcano Hopper Recommends: I love my Merrill hiking shoes. They are very comfortable and have great arch support, which is important for me. They are well balanced and have great traction, especially in slippery ash or on uneven A'a lava. Snag a pair here:
2) Hiking Poles
These are an absolute necessity if you're going up a composite volcano like Mt. St. Helens. They're awesome for balance and you can use them to help pull you up the trail. They're also helpful for thumping the lava on the trail in front of you. An echo means that the lava beneath you might be hollow and that it's not a good place to step. If you're planning to hike in the snow or ice, bring an ice axe too.
Volcano Hopper Recommends: My Black Diamond hiking poles are as cute as they are sturdy. These things have really taken a beating and barely have a scuff on them. I'm amazed – given the workout they've had – that they haven't broken. Find them here:
3) Backpack with a water bladder
You definitely want to find a pack that fits your body like a glove and is the appropriate size for the trip you are taking. Smaller packs are great for short trips; bigger backpacking sizes will store everything plus the kitchen sink and will do for a few days out in the backcountry. Get one that can hold a large water bladder so that you have water easily accessible. You won't have to dig through your pack every time you want a sip, and you won't have to deal with the shifting weight of water bottles rolling around.
Volcano Hopper recommends: My Osprey Ariel 70 hiking is the best pack I've ever carried. It's comfortable and the zero gravity feature keeps the weight of the pack off my shoulders and centered on my hips. And I love the day pack that comes with it – it's great for that extra bit of storage, or if you want to take off on a shorter hike.
4) Food and Water
Now that you have a pack with a water bladder, fill it up! Maybe even bring a few of those extra bottles of water just in case. Make sure you have good food to take with you, and a variety of it. I usually pack protein bars, jerky, apples, and even some candy, just to name a few. The variety helps to mix it up on the trail and keep me from getting bored with what I'm eating. It also helps make sure I have plenty of fuel to get up – and down – the volcano. I recommend taste testingeverythingbefore you get on the mountain to make sure that it won't upset your stomach. Take some TP just in case.
5) Camera
You're traveling in one of the most incredible places on earth! Not just everyone has explored the trail you're trodding today. Bring your camera and shoot some awesome photos to take back with you. Most phones have great cameras, so at least take that. (Hint: If you don't have a cell phone signal, you may want to consider flipping it to "airplane mode" so that your battery doesn't drain looking for one.)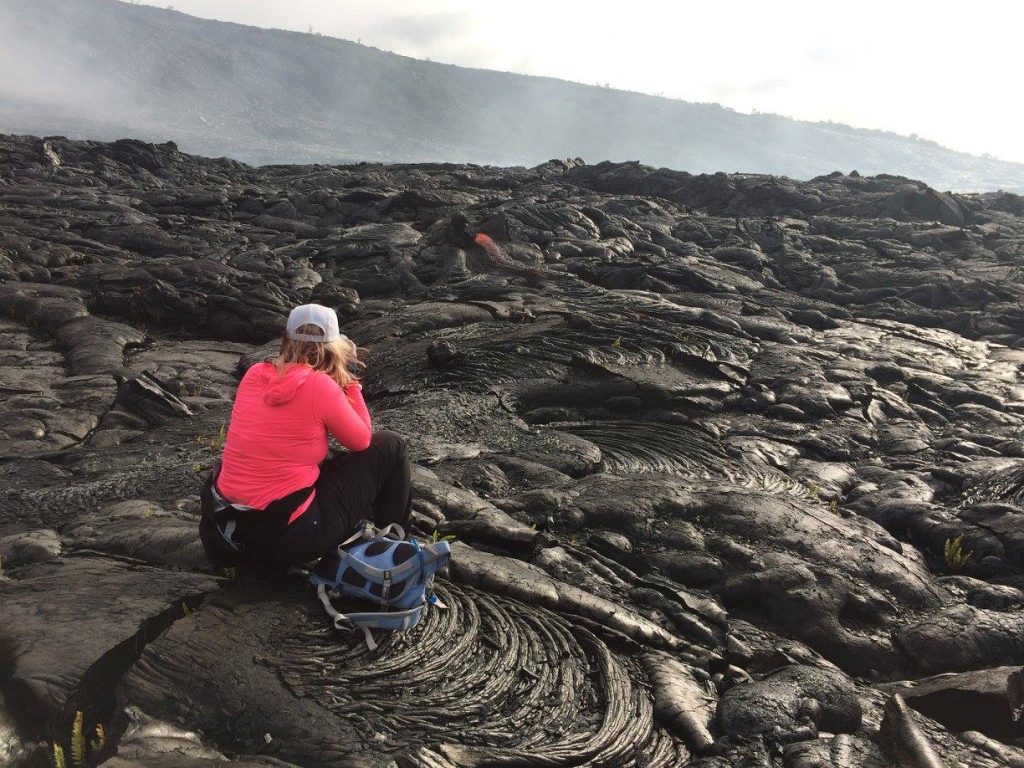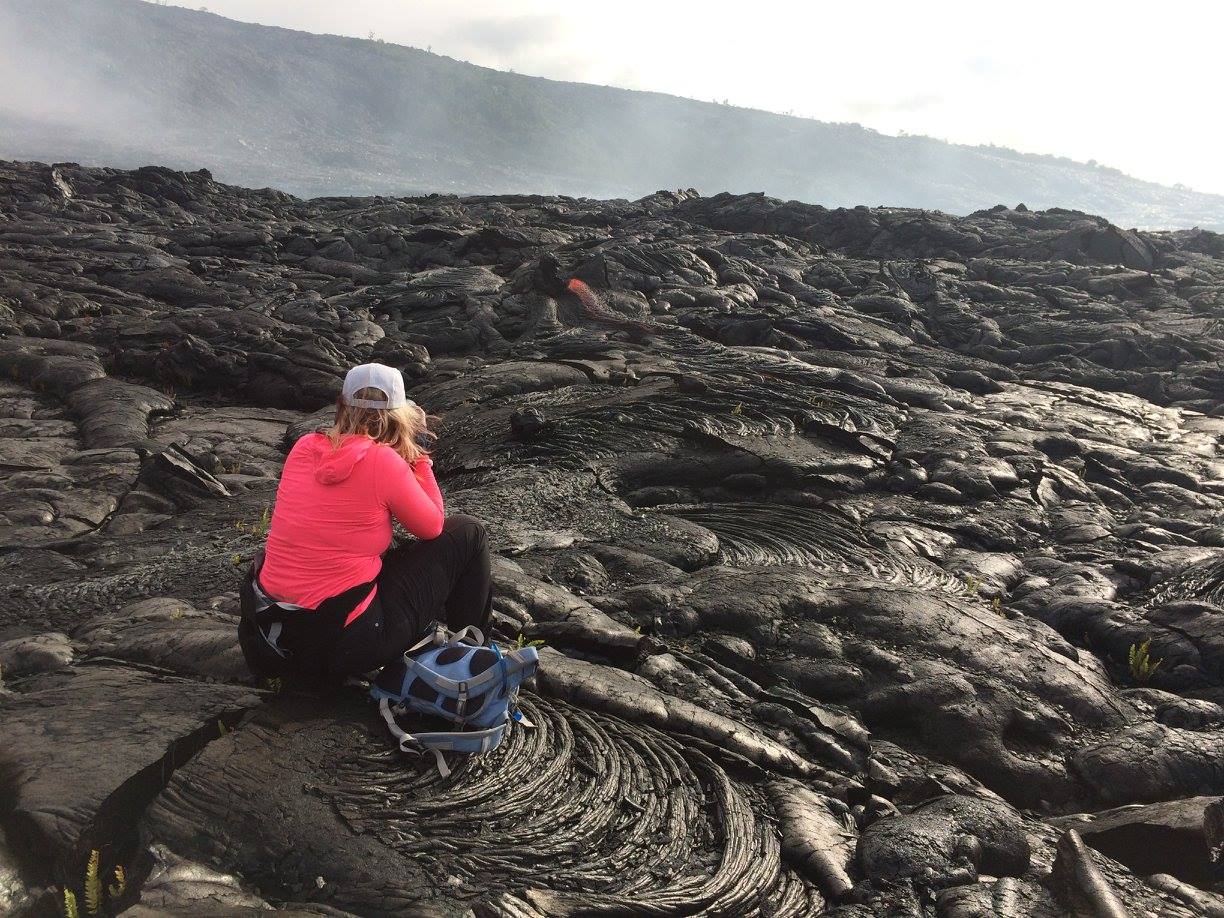 I usually carry my DSLR camera with me in my pack. I keep a wide angle lens and a telephoto lens right along side it. Wide angles are great for capturing the scenery in one shot; the telephoto allows me to see sizzling volcanic features that I otherwise couldn't get close to. Make sure the camera and lenses are wrapped carefully and are in a dry bag.
6) Clothes and Extra Layers
Always dress and pack in layers. Weather can change quickly on the volcano. It could go from hot to cold, or vice versa, in a matter of minutes. Or a freak rainstorm could soak you to the bone. Always be able to add layers (warmth and rain protection) and take them off. I always pack a change of clothes in case it does rain and I do get wet. Make sure you wear a hat. It can keep you warm (or cool if you pour some water into it) and will offer sun protection.
7) Sun Protection
Sunny, clear blue skies are a hiker's dream. Or evey a fluffy cloud or two will do. Right? Sure. But it's also prime weather for a wicked sunburn and heat exhaustion or heat stroke. Always wear sunscreen, and bring more to reapply every couple hours. I usually wear long sleeve shirts and pants not only as sun protection, but to keep the lava from scratching me up. And did I mention to wear a hat?
Questions on gear? Want my recommendations? Want to tell me what your go-to gear is? Drop me a comment below!

Remember, find the right gear for YOU! You are special, and unique, and your gear should be too.
And remember, always be safe!
Loved this post? Share it!
Copyright © 2019 Volcano Hopper. All rights reserved.