Vital Stats
Name: Yellowstone
Type: Supervolcano
Eruption Status: Active
Last Eruption: Approximately 640,000 years ago
Location: Upper Geyser Basin 44.4600° N, 110.8292° W
Northwestern Wyoming/Southeastern Idaho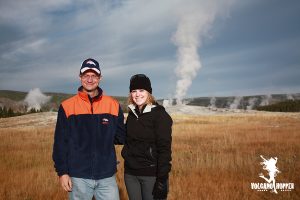 As we head west along the southern loop road, we catch glimpses of wildlife in the thick trees. A mother elk and her calf are grazing on sweet grasses that are clinging to what's left of autumn. The father, a majestic ten point buck, bounds across the road in front of us and disappears up the hill. As we pass West Thumb Geyser Basin, the trees begin to take on a ghastly appearance. Here you can see the scars of the 1988 forest fires. I was just a kid then, on a cross country trip to Oregon to visit family, but I remember the roiling smoke on the horizon. The fires destroyed 36% of Yellowstone. But forest fires have a natural way of clearing out the old junk and creating space for new life. This is similar to how volcanoes behave. Ash mixes with soil to create fertile land and vibrant life springs forth from it. Now, nearly 30 years later, we can see where life is making her comeback.
As we come around a bend in the road, the forest makes way for a wide stretch of open land. Massive columns of white steam rise into the blue sky from the tawny ground. The Firehole River winds peacefully through the steaming landscape. At last! We'v found what we were looking for: Upper Geyser Basin. Let the eruptions begin!
Upper Geyser Basin sits on the caldera floor nestled snugly between two enormous lava flows. See those hills that surround the geyser basin? Those are the ancient flows, composed primarily of rhyolite. (Remember that rhyolite is a fairly sticky lava that can cause violent eruptions.) The magma chamber sits close to the the surface of the caldera here, and the ground is incredibly hot. And that's part of what fuels the geysers. (Need a refresher course on what makes geysers tick? Hop back to this post.) In fact, 20% of the world's geysers can be found right here! One single square mile holds over 150 geysers. That's one crowded super-soaker party!
There is so much to explore here! Put on your walking shoes (it's about 3 miles round trip to the end of the boardwalk and back) and bring a water bottle and a little bit of patience. While the scientists can estimate the time of many eruptions, it's not an exact science. Volcanoes do have a mind of their own after all. Remember, keep your feet on the boardwalk. The ground is extremely fragile and scalding hot. If you fall in, you're not coming back out.
Geyserite – One of the first things you'll see is a crystal-like substance that forms the base of these geysers. The water that is jetted into the air is full of silica. Silica is a key component in glass. This and other minerals are deposited over the vent by the spraying water and, over time, create the cone-like formations in the basin. A word of warning if you are taking pictures or wear glasses: If you get sprayed by water from a geyser, clean your lenses immediately. Silica in the water will fuse to the glass once it cools and you'll have a permanent "geyser kiss" on your glasses or camera lens.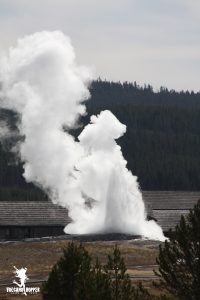 Old Faithful – This is undoubtedly the most famous geyser in Yellowstone. It is a stone's throw outside of the Visitor Center and is extremely predictable. My hat's off to the scientists who timed this geyser while we were there. They were spot on each time. Check the Visitor Center for expected eruption times. When Old Faithful does erupt, you won't be disappointed. Water jets an average of 130 feet in the air from this cone-shaped geyser, and eruptions can last from 2-5 minutes each time. But there are bigger and badder geysers lurking in the basin behind this attraction. Let's go find a few of them.
Beehive Geyser – The sinter and geyserite that form this little geyser give it a shape akin to a beehive. But this little guy packs a punch! It shoots water like a firehose up to 200 feet in the air and when it does, it sounds like a jet engine. This one is tough to catch in action as it can erupt anywhere from every 8 hours to every 24.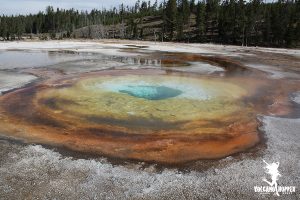 Chromatic Pool – This pool won't erupt and shower you with smelly, mineralized water, but the colors and depth of this pool are spectacular. There are many other thermal pools scattered throughout the geyser basin similar to this one.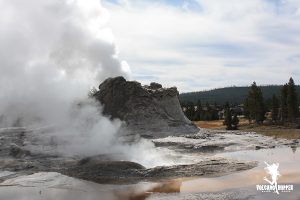 Castle Geyser – Now here is an impressive and ornery geyser if I ever met one. The geyser is formed from a 12 foot sinter cone and may be one of the oldest in the entire park. Over thousands of years, the minerals in the water have built this cone into a massive formation that overlooks the landscape around it. Eruptions occur every 12 hours on average and last for about 20 minutes. The spray shoots 75 feet into the air. After the water dies down, Castle tends to huff and puff steam like a dragon for another half hour.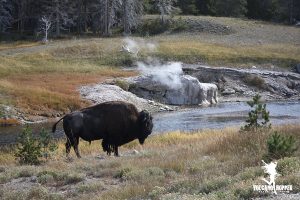 Riverside Geyser – As we came around the bend toward the Firehole River, a loud snort stopped us in our tracks. Basking in the warmth of the riverside geysers was a mother buffalo and her calf. We kept very quiet as we tiptoed past. Along the river are several geysers such as Riverside. This one shoots 75 feet into the air, raining down into the Firehole River, approximately every 6-7 hours.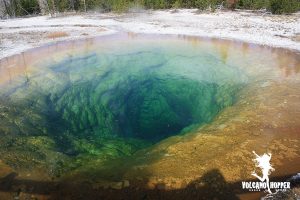 Morning Glory Pool – This gorgeous pool is situated at the end of the boardwalk. Its vibrant colors and flower-like shape are reminiscent of a morning glory flower. As temperatures vary in the water, the colors change. Hotter water means more blue. Cooler water allows the organisms on the edge of the pool to thrive, causing spectacular oranges, yellows, and greens. Sadly, past visitors have used this pool as a "wishing well" and hundreds of dollars in coins and other garbage have been fished out over the years. This pollution has unfortunately caused a change in temperature of the pool, clogging the vent beneath the surface, and so Morning Glory looks much different than it did 100 years ago.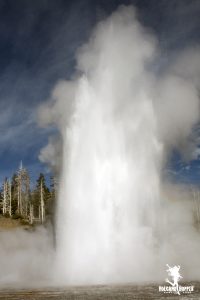 Grand Geyser – This is the biggest and baddest of them all here in Upper Geyser Basin. It is also my personal favorite. We found a cozy spot in the sunshine on the boardwalk benches near this geyser. Here we met a fantastic geyser spotter named Jim. He and many other volunteers come out to the basin every day to observe the eruptions. They know this basin like the back of their hands. When tiny Turban Geyser next to Grand started spewing water, he told us that the big guy was about to go off. Jim was right. Grand erupted a few minutes later, jetting water 200 feet into the air above our heads. We were much closer than at Old Faithful and felt utterly dwarfed by the eruption. It lasted nearly 10 minutes. I have never seen anything quite like it. If you have a little time to spare, I highly recommend taking a picnic lunch to Grand and waiting for it's next big show.
There are far too many geysers and pools to describe in this one meager blog post. If you're in the park, go explore it for yourself, and let me know which thermal features you found the most fascinating!
Upper Geyser Basin is one of six geyser basins in the park. Let's hop up the loop road to see what other thermal features we can explore!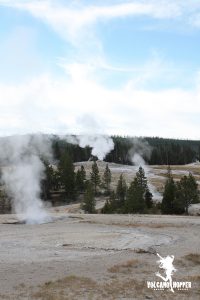 Up Next: Black Sand Basin, Biscuit Basin, and Midway Geyser Basin
Want more? Check out the photos and a video of Grand Geyser on Facebook.
Copyright © 2018 Volcano Hopper. All rights reserved.